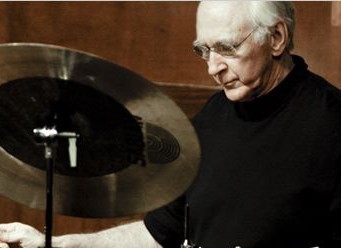 Born in Swindon, England on July 9th 1934, Colin Bailey began playing drums at age four. He also studied piano and theory at an early age, and worked with English name bands from age eighteen. Colin lived in Australia in the late fifties and was staff drummer at T.V. Channel 9 in Sydney. At that time he accompanied distinguished visiting jazz artists such as Dizzy Gillespie and Sarah Vaughan. In 1960, Colin met the biggest influence in his life as a drummer. Joe Morello came to Australia on a tour with the Dave Brubeck Quartet. Colin was in the group that was opening for Brubeck. He says, "I had heard Joe play on a record. I knew he had tremendous chops, but when I saw and heard him play in person, I just had to have that technique. For two weeks, as soon as Joe woke up every day, there I was with the practice pad. He was so gracious, showing me the George Lawrence Stone finger control technique. It changed my life. I put in many hours every day trying to get it down, (I am still practicing mastering it!) and it made a big difference in my playing. I had a lot more control with volume, and could play quietly with intensity, something that is tough for a lot of drummers. Joe and I have been the best of friends ever since."
Colin Bailey
Jazz Impressions of Black OrpheusIn 1961, Colin emigrated to the U.S.A. as a member of the Australian Jazz Quartet. Six weeks later he joined the Vince Guaraldi Trio, and played clubs in San Francisco, including several months at the Trident in Sausalito, and other well known clubs such as The Blackhawk and Jazz Workshop. During this period, the trio played with such jazz greats as Ben Webster, Jimmy Witherspoon, and Gene Ammons. In February of 1962, the record Jazz Impressions of Black Orpheus was made, featuring the tune "Cast your fate to the Wind" which was Vince's composition. It became a huge No.1 best seller. This record played a big part in Colin's life. In January of 1963, he got a call from Victor Feldman who asked if he would be interested in going to Los Angeles to play a steady gig with his trio. Victor had heard the record and wanted Colin to be a member of his group. He moved to L.A. The exposure of playing with Victor was tremendous. Local and visiting musicians would come into the club on Sunset Boulevard called The Scene to hear the trio play. It wasn't long before Colin got a call from Dick Bock, the owner of World Pacific Jazz record label, to play on a single track with Clare Fischer, with Albert Stinson on bass. Dick said the reason he hired Colin was because he heard "Cast Your Fate." That session became a whole record because Dick liked the way the trio played together. It was titled Surging Ahead and got 5 stars in Down Beat. That session led to another important connection in Colin's career. Joe Pass had recently signed with World Pacific Jazz records. Using the same personnel (Clare, Albert and Colin) the album Catch Me was recorded. This was the start of a life long friendship between Colin & Joe. Over the next 32 years they worked on many recordings, T.V. shows, and jazz gigs together. That same kind of friendship happened with The Victor Feldman Trio's Victor and Monty Budwig (the great bass player) and Colin.
From 1963-1979, Colin Bailey's jazz career in L.A. and on the road was extensive, playing and recording with, among others: Joe Pass, Victor Feldman, Joe Williams, Benny Goodman, George Shearing, Chet Baker, Hampton Hawes, Jim Hall, Red Mitchell, Roger Kellaway, Phil Woods, Pete Jolly, Ray Brown, Tommy Flanagan, Terry Gibbs, Buddy De Franco, Jimmy Rowles, Barney Kessel, Herb Ellis, Joao Gilberto, Peggy Lee, Tony Bennett, Coleman Hawkins, Gerry Mulligan, Michel Legrand, Dave Grusin, Harry 'Sweets' Edison, Clare Fischer, and Blossom Dearie. In September of 1963, Colin was called to sub for Tony Williams in the new Miles Davis Quintet. Miles' group had been booked at another jazz club in L.A. called the It Club. Miles had spent several nights at The Scene (the club that Colin was playing in with Victor Feldman) because he wanted Victor to be the piano player in his new band. Victor surprisingly declined, and Miles hired Herbie Hancock. When Miles and the Band got to the club for a sound check there were some people there from some kind of board that said Tony, who was only 16 at the time, was too young to play in such a place! Miles needed a drummer, and having heard Colin with Victor, he called him to fill in for a couple of nights until they could sneak Tony in. "That," says Colin, "was one of the thrills of my life."
In 1964-65 Colin was a member of Terry Gibbs's six piece band on The Regis Philbin T.V. Show. It was a great show for jazz. As a member of the rhythm section, Colin got to play for guest artists Duke Ellington, Count Basie, Dizzy Gillespie, Sarah Vaughan, Mel Torme, and June Christy, among others.
In 1967, Colin started a twelve year studio career in L.A. and did numerous T.V. shows, jingles, recording sessions, movie and T.V. sound tracks that include: Emmy Awards, Fred Astaire Easter Show, Julie Andrews Show, Merv Griffin, and The Charlie Brown Christmas and A Boy Named Charlie Brown (Linus and Lucy specials with Vince Guaraldi.) He subbed for Ed Shaughnessy on the Tonight Show with Johnny Carson for six years, and the Carol Burnett Show. There were more jazz greats to play for on various shows: Cannonball Adderly, Errol Garner, Lionel Hampton, Carmen McRae, and Mel Torme. On T.V. shows he played for every kind of music, from Beverly Sills (Opera) to James Brown.
In 1979 Colin moved to Dallas to work in the jingle scene that was thriving there at that time. He became a drum teacher at North Texas State University from 1982-84. He played most week-ends with Red Garland at a club in Dallas. In 1983 Colin joined the Richie Cole group Alto Madness, travelled to Japan and Europe, and toured the U.S. It was tough because he was still doing the teaching job as well. He also played with Carl Fontana, Eddie 'Lockjaw' Davis, James Moody, Pepper Adams, and others during that period.
He has written three drum books; Bass Drum Control (published in 1964) has been such a successful book that it was reissued with a new cover to celebrate its 50th anniversary, Drum Solos – the Art of Phrasing (1998), and his latest one, Bass Drum Control Solos (2002).
His DVD, Bass Drum Technique, was voted Number 2 in the Modern Drummer reader's poll in the Educational DVD category. It is also available as a Master Class or single lessons on the Drum Channel.
Colin currently lives in Southern California, he is still actively performing.   Pulse Drumming, School of Drums & Percussion, Ventura, CA. is proud to have Collin as an active instructor and esteemed faculty member. (805)648-DRUM(3786)
"Mention Colin Bailey's name to any Jazz drummer and there's an instant recognition and an unspoken appreciation of his talent on the instrument." — Steven Cerra (Jazz Profiles)