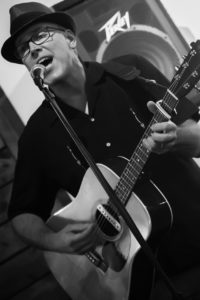 Dirk Shumaker
Bass (upright, electric, acoustic), Guitar, Ukulele
     Dirk Shumaker is the bass player and back up vocalist for the swing band Big Bad Voodoo Daddy. Joining the band in 1993, Dirk Shumaker has enjoyed a very successful career that spans over 20 years in the music business.
     Big Bad Voodoo Daddy burst into national recognition by being featured in the 1997 hit movie "Swingers." Written, directed and starring Jon Faverau, the movie also featured Vince Vaughn and Heather Graham. "Swingers" was an immediate success and launched the carrers of both Big Bad Voodoo Daddy and the young actors in the film. Following the release of "Swingers" Big Bad Voodoo Daddy was signed to EMI Capitol Records and released their self titled album in February 1998. This album went on achieve platiunim status with the RIAA, having sold over 1 million copies by August 1998.
     Big Bad Voodoo Daddy has enjoyed a colorful musical career and have recorded an additional 8 full length albums between 1998 and 2018. During this time Dirk Shumaker composed and recorded an independent album of original children's music entitled "Everybody's Gotta Have a Place." The twelve songs that comprise this album define a universal theme of compatibility between human beings and all the other creatures that share this planet with us. Each song contains a clear lyrical message that tells an entertaining story in a fun and educational way that will inspire parents and children alike. The original music is recorded in various styles including bluegrass, western, Dixieland, rock and roll & calypso. All these styles are presented in a fun and rhythmic way that will encourage parents and children to sing-along and play together.
"Everybody's Gotta' Have A Place" has the distinction of earning prestigious National Parenting Publications Award (NAPPA) in 2004.
     Having created a solid career in musical performance, Dirk Shumaker is also an inspirational instructor for a beginning to intermediate music student. Drawing from years of experience with playing the bass, acoustic guitar and ukulele, Dirk is able to help guide students towards realizing the rewards of playing a musical instrument.