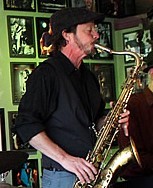 PATRICK MARTIN
Saxophone, Clarinet, Oboe (Woodwinds)
Patrick Martin has been providing Ventura County with quality music lessons and instrument repair for over 20 years. He is the the owner of  Musicians Brass and Woodwind. (located upstairs from Pulse Drumming).
Patricks Mission Statement:
Preservation of the tradition of concert band and orchestral music is the primary objective. Each instrument that is taught or serviced here is done with the intention of providing the musician, young and old, with the tools to contribute to a musical performance. Our craftsmanship for your artistry.