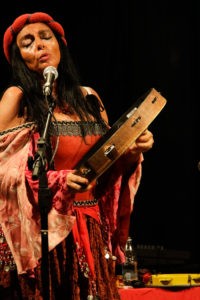 Alessandra Belloni is the Artistic Director, Founder and Lead Performer of "I GIULLARI DI PIAZZA", an Italian Music, Theatre and Dance Ensemble who  is Artists-in-Residence at the Cathedral of St.John the Divine in New York City.  She is also the designer of a line of signature series Italian tambourines made by Remo. She is the only woman in the U.S. and in Italy who specializes in traditional Southern Italian folk dances and percussion combined with singing that she learned in Southern Italy.

    An award winning tambourine virtuoso, singer, dancer and actress, Ms.Belloni was born in Rome, Italy and is committed to preserving the strong and rich traditions of her culture. For the last 18 years she has been holding her special dance & drumming workshop in Tuscany RHYTHM IS THE CURE, with students that come from all over the world. Recipient of the Folk Arts Master Grant from the New York State Council on the Arts.

 She has spent many years participating in authentic drumming festivals in remote areas of Southern Italy. She has performed extensively with master drummer Glen Velez (her first tambourine student) and was invited by Nana Vasconcellos and Gilberto Gil to perform in PERC PAN '98 in Bahia, Brazil.  Voted one of the best female percussionists in the world by Drum Magazine, featured in Modern Drummer magazine and has written articles for Percussive Notes.

Her CD's "Tarantelle & Canti D'amore" released by Naxos of America on 2003 was considered the second best percussion CD of the year by DRUM Magazine and has received many favorable reviews from major press.

The CD "Tarantata: The Dance of Ancient Spider" (on the Soundstrue label) released in 2000, has received a wide critical acclaim and distribution. It was also nominated one of the best CDs of the year (2002) by Jon Parales from the New York Times and Dan Hackman from the Los Angeles Times, and won the Best World Percussion CD of the Year by DRUM Magazine.

Alessandra Belloni created a new World Music Sound with her group, using electronic music combined with acoustic, in her new show TARANTELLA SPIDER DANCE, together with electric violin master Joe Deninzon. This show has been bound for an off-Broadway run, always presented to sold out audiences. Spider Dance was recently presented with great audience and press success at theprestigious RED CAT THEATRE AT Disney Center in Los Angles, with CAL ARTS. She has recently founded a Women's percussion ensemble called DAUGHTERS OF CYBELE. She tours the world  her one woman show "Rhythm is the Cure" With her ensemble from New York she tours across the U.S. and abroad, performing and teaching workshops in various festivals and halls.