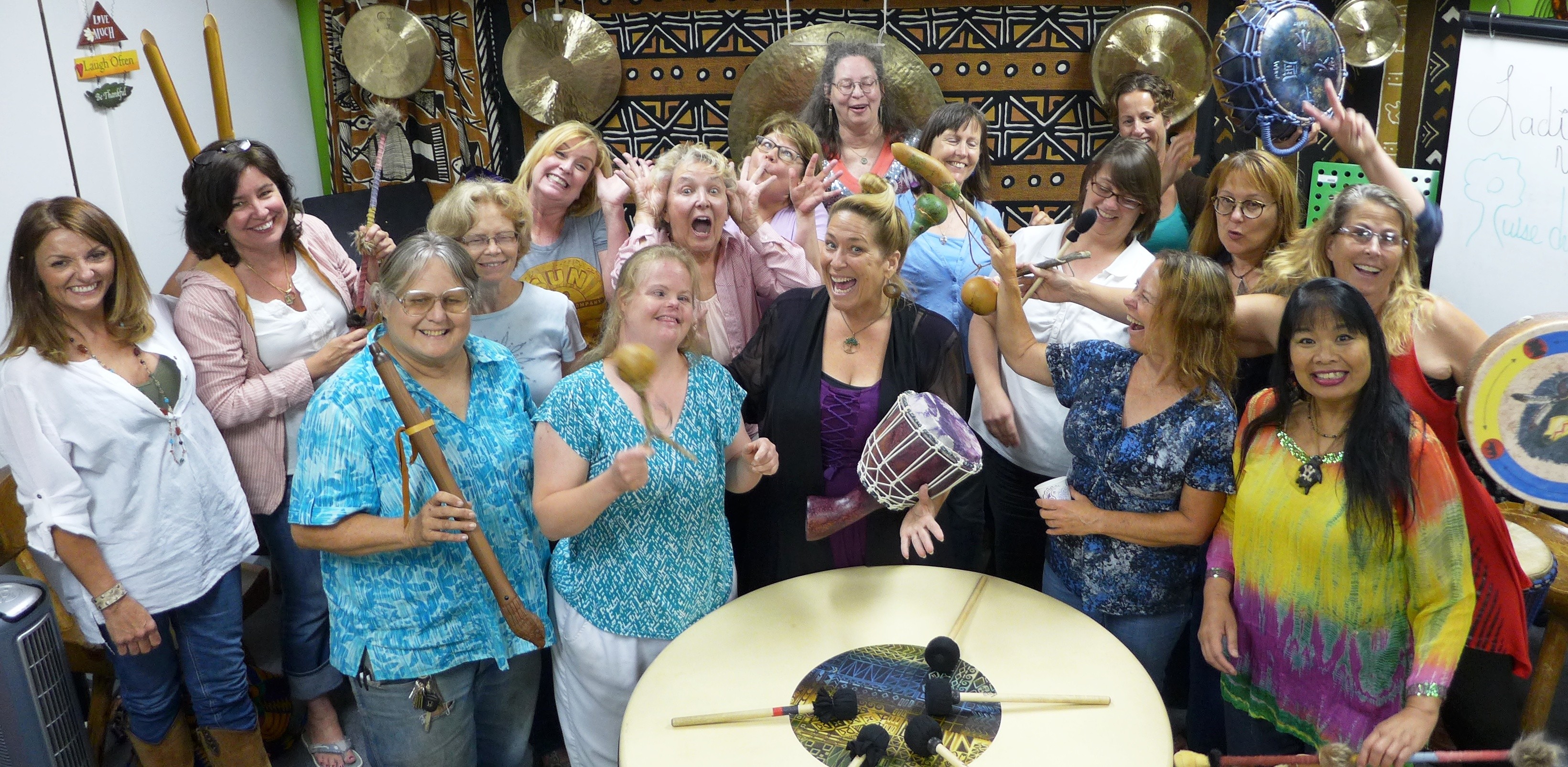 Kim Brower
Percussion & Music Specialist
Kim has been a student of percussion for over 20 years.  Her drumming passion was ignited when she brought a patient of hers to a community African drumming class, to improve left and right brain integration.
The experience was not only life changing, but career changing.  After 20+ years of Emergency Room Nursing and working with private duty head trauma patients, Kim and her late husband, Dean founded Pulse Drumming to bring quality percussion education to Ventura County.
Her resume is as eclectic as she is…  born and raised in Ventura, CA Kim grew up in The Ventura Unified School District a graduate of Ventura High School and studied nursing at Humboldt State University.  She has been blessed to study with many noted percussion educators, many who teach or have taught at Pulse Drumming.  Her major studies have centered around Italian frame drumming and folk arts, African djembe and dun duns.  She has a passion for the history of vintage drumsets & hardware, unique percussion instruments, and learning and teaching the history of drums & percussion.
She was blessed with two special needs children.  Lindsey, who suffered a major stroke at age 9, leaving her blind, hearing impaired and having to learn how to walk, talk, etc… Her son, Bill (passed away 2011) had a brain stem stroke at 4 months old leaving him blind, mentally & physically delayed and wheelchair bound.  Her experience as a nurse and working with her Children's Pediatric Neurologists and multiple therapist, taught her the skills necessary to be able to allow persons of any ability to be able to experience and learn through music.
Kim enjoys working outside the box and being challenged to assist others in their music goals.  She teaches students privately and in groups.  A Music Specialist for the Special Needs Community, Corporate team building, private parties and school based programs.  She is experienced in integrating Individual Education Plans (IEP), creating and facilitating community percussion events and loves giving others the experience of drums and percussion in a family friendly, non intimidating environment.
Kim has founded The Brower Family Foundation in honor of her late husband, Dean Brower and her son, Bill Brower. She strives to bring quality drum and culturally correct percussion education to our community by providing low cost or free events to all ages and abilities.
Kim is active in several organizations…
The Percussive Arts Society, Interactive Drumming Committee Member , Tri Counties Regional Center, Percussion Marketing Council, National Association of Music Merchants, Fair Trade Commission, Africa Heartwood Project, lifetime member of Girl Scouts, has over 25 years of experience as a Girl Scout Leader and Trainer of Trainers. Day Camp Director (over 300 persons for 10+ years) Mariner Skipper (over 400 members) Gold Award Mentor, Boy Scout Badge Counselor, and volunteers her talents to multiple planning committees helping to shape The California State Music Core Curriculum.
ENDORSEMENTS:
REMO Educational Artis