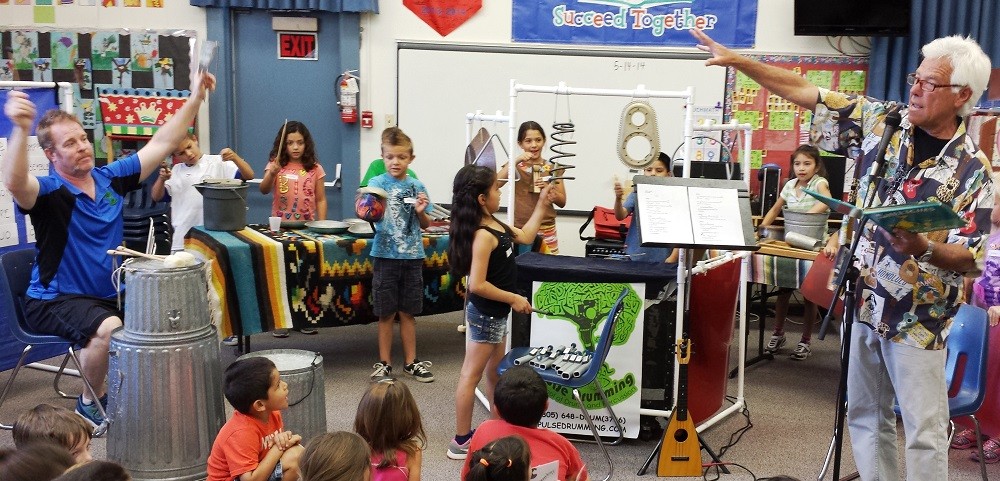 Larry Stein
Drums, Percussion & Ukulele
Larry began playing drums in the 1950's when he was inspired by Mouseketeer Cubby's pots and pans performance on the original Mickey Mouse Club.  While performing in school bands, orchestras, and big bands, Larry led several high school garage bands in the New York City area before studying percussion at SUNY at Buffalo and earning a BA degree in Music and Arts Production.  He then moved to Southern California to work as a studio drummer and to attend CalArts for western percussion, world music, and composition where he received a Master of Fine Arts degree.  He is a co-founder of the internationally acclaimed Repercussion Unit and was one of their principal composers as well as producer for several recordings.  He has performed in major venues including the Kennedy Center in Washington DC, Carnegie Recital Hall in New York City, and the Los Angeles Music Center as well as in numerous settings in Germany with the Unit. In addition to percussion performance, Larry now enjoys singing and playing ukulele accompanied by self-generated percussion loops.
Mr. Stein is the creator and presenter of many arts-in-education programs including "The Sound Idea," "The Feeling Eye," "The Alive Ensemble," and "The Arts Circus." He now performs and facilitates creative percussion workshops with fellow Repercussion Unit member Gregg Johnson and Pulse Drumming co-owner and instructor Trey O'Toole with "Instant Ensemble."  For more than 35 years, Larry has been associated with the national Young Audiences organization with particular focus on program design, teaching artist training, and interactive media documentation including directing the development of the Arts for Learning website in 1999, the first site in the field to integrate video with web pages.  He also has been a consultant to the Santa Monica Arts Commission, the City of Los Angeles, the California Arts Council, the Getty Center for Education in the Arts, and the National Endowment for the Arts, AIE Program.  He served as board member for the California Alliance for Arts Education and now participates in the CREATE CA arts and education reform movement.
Larry produced the 1984 Olympic Arts Contemporary Music Festival, CalArts Contemporary and World Music Festivals, New Music America '85, the International Festival of Masks Parade, and the John Cage 75thBirthday Celebration and Jazz and Gospel Concerts for the Los Angeles Festivals in 1987 and 1990.