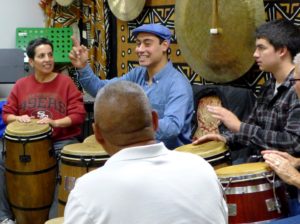 Miguel "Miguelito" León is a professional touring and recording multi-percussionist/vocalist, promoter, educator, as well as CEO & Founder of his company CALI2CUBA and Director of California based organization Los Rumberos de Cali.
Born and raised in Santa Barbara, California, since before he could walk Miguel showed a remarkable sense of rhythm. Miguel was heavily impacted by a wide range of musical genres, thanks to his mothers diverse music collection.
The start to his professional career began at the age of 10, as he was performing on a weekly basis as a freelance musician. At seventeen he was Director of one of the largest junior high school drum programs in Southern California. At the age of twenty he had already made his way performing and educating across the country as well as over seas, at university's and performing on national television.
Instruments: Congas, Bongos, Drum set, Djembe, Timbales, Cajon, Doumbek, Pandeiro, Berimbau.
ENDORSEMENTS
Wynton Marsalis, Oscar Hernandez, Ozomatli, BoB Mintzer, B-Side Players, Kenny Loggins, Luis Conte, Giovanni Hidalgo, Ted Nash, Tata Vega, Carlos Henriques, Walfredo Jr. Reyes, Lois Mahalia, Randy Tico, Michell Long, Jeff Elliot, Wetlands, and more!