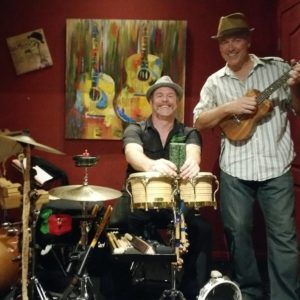 Trey O'Toole
Drums, Percussion & Mallets
Trey has been a student of percussion since 1978 and instructing professionally since 1998. He completed coursework at University of Californina Santa Barbara on scholarship for his Bachelors of Music with an emphasis in Orchestral Percussion.  Trey studied privately with: Dr. Teresa Dimond-UCI; John Magnussen-CSUN; Dr. Jon Nathan-UCSB, Dr. Erik Forester-USC/Thorton & Bill Schlitt-Azusa Pacific University.  He also received scholarship to attend I.S.O.M.A.T.A.and Blue Lake Fine Arts Academy.
Trey has studied drumset privately with; Jonny 'Vatos' Hernandez, Zoro, Alphonse Mouzon, Dave Weckl, Frank Briggs, Dr. Jon Nathan and Craig Thatcher.
Putting his training to use, he has taught in numerous schools throughout California. Most Recently he has been in Apprenticeship studying Pedagogy under Larry Stein and Gregg Johnson, working on reforming the California State Core Curriculum for Music and the Arts. He studies Special Needs methodology under Kim Brower.
Trey's dream of contributing to the Percussive Arts clearly manifested itself in 2010, thanks to the generous offer of Pulse Drumming's founder Kim Brower to endeavor with her as a co-partner in Pulse Drumming LLC; bringing education and integration to any and all interested.